Vidám, Világos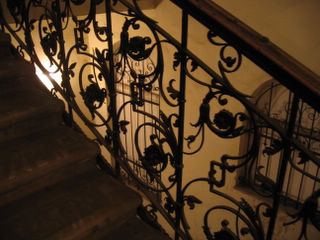 Things appear different after a night of dancing all night long. Or maybe it's because I am so very rarely up at 6 am. A hired driver took over the wheel for L, and we sat in the back of his car and drove northwards through Pest at that early hour. Buda opened up to us like a dream from across the river. L asked the driver to stop, and we both gazed out at the Chain Bridge and the varied roof shapes of Buda, stunned by the beauty of time and place.
Back at home, I ascended the same stairs that I climb every day. But bathed with morning haze and the sweetness of hand-holding still on me, like the insistent stickiness of honey, my stairs seemed more beautiful to me than ever.
I've always meant to take a picture of the shadows on the stairwell wall, but only Sunday morning at 6 am did I actually take that picture.
And then, at the top of the stairs, looking down into my courtyard from the balcony, I saw someone else had been dancing.
I gazed across the courtyard, sighed, thought dreamily: "This is my home." And decided I ought to pose one day like a Hellenistic sculpture in that niche across the way.
Waking up at 11:42 am, (without the benefit of my required nine hours), the world is blurry, but very bright.