Apokolipszis – Frisson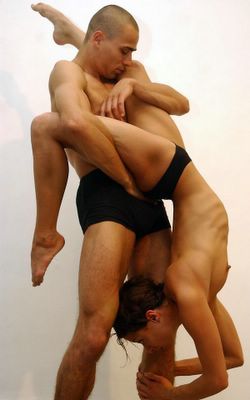 Last night was the premier of
Pal Frénak
's
Apokalipszis - Frisson
piece at Trafó, part of the Budapest Spring Festival. I've written about Frénak's work before at B and the R, after I saw
Fiúk
. Frénak is one of the most interesting, talented contemporary choreographers in the world, in my estimation, and this latest work of his is as provocative and important as I could have hoped.
A low, inclined platform took up about 85% of the stage, creating a sort of stage within a stage. The piece opened with a film projection of a sky with moving clouds on top of the platform. Several ropes, which are signature elements in Frenak's work, were positioned in parallel both with the back edge of the platform and with the left edge. A woman in a short white satin slip wrestles violently, twitchingly, with the ropes, becoming more and more entwined. The ropes here are surely metaphors for struggle, but is she struggling with herself or with the world?
Three other dancers eventually emerged: two men and one other woman. Their costumes sometimes consisted of a black suit jacket with nothing else but briefs, their bare chests fleetingly evident beneath their jackets. We may dress up in coat and tie, but underneath we are the same: primitive muscle, flesh, bodies that move and writhe and despair.
In one segment, the two male dancers take off their jackets and underwear and are wearing only gas masks. They kneel on all fours facing the stage, while the two women dancers appear behind them, donning gloves, grasping between their legs. The hoses attached to their gas masks lengthen and the two men writhe on the floor with one another, a tangle of man-body and gas mask hose. From stage left, one of the woman dancers appears in an afro wig, big sunglasses, red-heart pasties on her breasts: she prances toward the squirming men, gathers up the gas mask hose as if gathering up a feather boa, and then leads them, as if walking two dogs, off the stage.
This juxtaposition of horror and absurdity is again demonstrated at the end of the piece. The same dancer who wrestled with the ropes at the beginning again appears in her short white satin slip. She has extremely long hair and she dips it in "
blood
", then flings her hair onto the platform, where the
red
spashes violently across the pristine whiteness. She makes her way around toward the back, splashing more and more, her white satin now alarmingly
stained and soaked
. The platform itself is soaked, and she begins a struggle to stay standing on it, but repeatedly slips, falls, tumbles. Then: the other three dancers emerge behind the platform in their suit jackets. A samba. They dance, they smile, all the while the
bloody
drama is playing out in front of their eyes. They must see her, but they do not react to her. This is the end.
I don't want to reduce
Apokolipszis - Frisson
to a "message," because a message would never communicate what the bodies of those four dancers and the art of Frenak do-- otherwise, he would have written an essay. But his work is so rich with meaning, that without reducing it to one thing, I would like to note that he successfully fuses his own idiom with a universal one that reflects the human condition in general: defined by struggle, violence, frivolity, beauty, which combine in endless, sometimes fascinating, sometimes disturbing ways.
There is both absurdity
and
horror, things apparently impossible to reconcile. For me, I have decided that I will not stop dancing because there is Injustice, but I hope that I will see it. I hope I won't look past, and I hope that I will spend some of my non-dancing time in a way that might mend it.